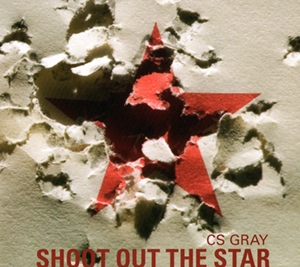 Early praise for CS Gray's Shoot Out the Star (self-released 2011)
Oliver Arditi (oliverarditi.com)
These country and blues tinged rock songs are performed with a deep groove, and deeper soul. …This record is full of great playing, great singing, perfect arrangements and intelligent production; music geeks will take note, and appreciate it, but these things are entirely not the point. I'd even go so far as to say the songs aren't the point: the point is the totality that's achieved when all these things combine, creating an emotional narrative that will touch many listeners, because it represents so precisely the uniqueness of experience that fills their own memories. There's a sense of nostalgia to some of the lyrics, and an implied nostalgia in the choice of style, but the music itself is curiously free from any backward looking tendency. Shoot Out The Star is a clear sighted and beautiful album.
---
Praise for Martin's Folly's From Hope (Johnson's Wax Records 2003)
Rolling Stone (The Hot List, RS 922)
Rootsy Brooklyn rockers, like a scruffier version of the Band, sing themselves back home with great tunes full of mournful, urban guitar twang.
RollingStone.com
Jim Duffy's electric piano and organ add shades of Mott the Hoople, the Zombies and a bit of Paul McCartney to singer-guitarist Chris Gray's concise roots rock. On the band's third album, From Hope, they again team with producer/Steve Earle axeman Eric "Roscoe" Ambel, who makes the most of their lean arrangements… The highpoint is a cover of Ian Hunter's "I Wish I Was Your Mother," with a great cameo vocal by the former Mott man himself. — Meredith Ochs
No Depression
The yearning "Everything You Do" sounds like a choice Wildflowers outtake, while "Martin's Lament" could pass for a Petty-penned Traveling Wilburys track (one to which George Harrison might have lent some choice licks, as Gray clearly revers the Beatles, too). And the Mott reference isn't to be taken lightly either, for in position is an absolutely exhilarating version of "I Wish I Was Your Mother" that proposes a power-pop vision over Alejandro Escovedo's folk-baroque interpretation. Raise your hand if you spot the familiar voice midsong [Ian Hunter].
---
Praise for Martin's Folly's Man It's Cold (Tar Hut Records 1999)
Billboard
Genuflecting toward rock's antecedents, Brooklyn, NY quartet Martin's Folly polishes its bar rock sound to a subtle sheen on this second effort. Live-style production, creative instrumentation (gasping harmonica, bubbly organ — even horns), and dynamic guitar solos link the rootsy hook of "Throwing Stone" to the Bacharach-smooth crooning of "Here Lies a Fool" to the balladry of the title track. While Petty and the Stones clearly seep from this act's pores, and at times the songwriting falls back on formula, not one of these 11 tracks sounds like the song before, making "Man It's Cold" a solid listen.
Sonicnet
Rarely does a band explicitly echo its ancestors without sounding derivative. Martin's Folly manage to call to mind Neil Young, Bob Dylan, Otis Redding and a dozen other names, but they never sound like a copycat. — Eric Schumacher-Rasmussen
Amplifier
With the growing number of contemporary bands that are looking to the past for inspiration, Martin's Folly may be the outfit to push the retro label to respectability.
Gavin
Their harmonica and organ/piano ditties inject the soul with the spirit that makes you want to pick up a tambourine and jam along with them. Think Mott the Hoople.
Tucson Weekly
Pegged generally, if not totally accurately, as working within the "no depression" genre is this young Brooklyn quartet. On the one hand, veteran roots-rock producer Eric "Roscoe" Ambel skillfully steers Martin's Folly through a gritty, vigorous set; but you're not likely to encounter avant-bassist Tony Maimone (Pere Ubu) guesting on many alt-country records, eh? — Fred Mills
New Music Monthly
Keyboards often neutralize rock bands, but Jim Duffy's playing sharpens the focus of all four musicians, widening the sound and scope of Chris Gray's well-tailored songs. Gray's great at changing gears, too — there's a swank and tender vibe within "Here Lies a Fool," a cool lonesome twang wandering through the title track and some old-fashioned rock power on "She Comes Around."